Online reservation
management

system
Jiffyx.com – online reservation web service with large amount of features which simplifies your workflows.
Abilities
Interactive hall
maps to select free tables
Edit table placement and description using online constructor
Create applications with preorder
Web widget for receiving reservation applications from your restaurant website
Integration with Restaurant Management System (Profit, RKeeper, etc.)
Interface gallery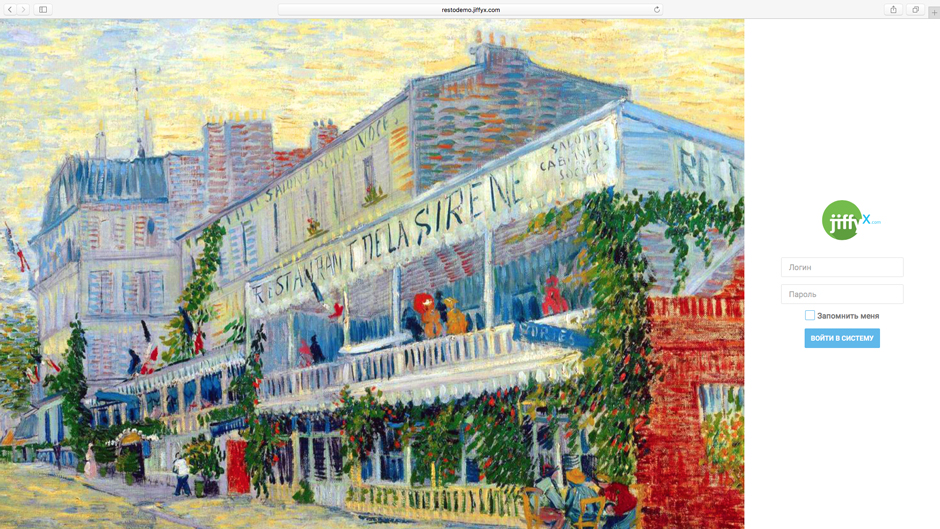 Web widget on your website
Companies that have chosen Jiffyx
Advantages
All applications (phone, restaurant, website) collected in one system
24/7/365 Available from any internet connected device
View applications for a selected period and for current date using Calendar mode, sort applications by parameters
Comfortable interface for selecting free tables - interactive hall map or time chart
Time chart of reserved tables for quick free sits selection during rush hours
"Quick reservation" for regular visitors.
Adding dishes and services with modificators
Full order information in one place available for all logged users
Send order to Client's e-mail address, print order
Web widget for receiving applications directly from restaurant website
One database for visitors of restaurant chain from several restaurants
Register user activity
System Access Control for different user groups (Chain Manager, Restaurant Manager, Hostess, Chef etc)
Settings for menu, halls and table placement, ability to adjust halls using online constructor.
Ability to edit saved applications
Effectiveness Statistics
Integration with Restaurant Management System
Regular Update
Tariffs
S
1 restaurant
All functions available
web widget on your website
30 days free trial
M
2-5 restaurants,
per restaurant
Integration with restaurant management system
(by agreement)
30 days free trial
L
6-10 restaurants,
per restaurant
Integration with restaurant management system
(included in subscription fee)
Separate virtual server with backup
XL
Restaurant Chain (11+)
Integration with restaurant management system
(included in subscription fee)
Separate virtual server with backup